GALERIA FOTOS
Galeria de fotos de los diferentes eventos realizados por diferentes clubs
Arranca una nueva competición con los nuevos Porsche 911.2 GT3 Cup a escala 1/32 (Ref. SC-6243A/B/C/D/E).
Desde Scaleauto queremos apoyar a todos los clubes interesados en actualizar sus carreras con este nuevo campeonato, contribuyendo con unos precios especiales y materiales gratuitos para una máxima igualdad en cada una de las carreras.
Además, podrás prepararte el coche para las próximas 24H. WES 1/32 2023!
Muy fácil, haz click en el boton al final de las instrucciones y rellene todos los campos solicitados y haga click en "Enviar". Una vez enviado, recibirás un email con las condiciones especiales de compra.
Apuntate en esta Porsche 911.2 GT3 Cup Race!!
Fecha límite para inscribirse y poder obtener esta promoción 30/08/2022.
Inscripcion
Requisitos para los clubs
Realizar un campeonato monomarca de 4 carreras como mínimo.
Utilizar el reglamento Scaleauto GT3 Internacional: Reglamento SC GT3  
Publicar en Instagram y Facebook fotos y resultados de cada carrera etiquetando Scaleauto_Social, además de seguir (Me Gusta) nuestras páginas.
En el caso de no tener redes sociales, enviar fotos y clasificaciones de cada carrera al email promotion@ibbautoracing.com
Incumplimiento de los compromiosos del club:
El club y sus miembros que no cumplan con estás básicas normas no podrán participar en futuras promociones y carreras oficiales realizadas por Scaleauto.
Start a new competition with the new Porsche 991.2 GT3 Cup at 1/32 scale (Ref. SC-6243A/B/C/D/E).
From Scaleauto we want to support all the clubs interested in updating their races with this new championship, contributing with special prices and free materials for maximum equality in each of the races.
In addition, you can prepare the car for the next 24 hours WES 1/32 2023!!
Very easy, click on the button at the end of this tnstructions and fill in all the requested fields and click "Send". Once shipped, you will receive an email with the special purchase conditions.
Sign up for this Porsche 911 GT3 Cup Race!! Deadline to register and be able to obtain this promotion 08/30/2022.
sign up
Carry out a one-make championship of at least 4 races.
Use the International Scaleauto GT3 regulation: Regulation SC GT3
Post on Instagram and Facebook photos and results of each race tagging Scaleauto_Social, in addition to following (Like) our pages.
In the case of not having social networks, send photos and classifications of each race to the email promotion@ibbautoracing.com
Breach of the club's commitments:
The club and its members that do not comply with these basic rules will not be able to participate in future promotions and official races carried out by Scaleauto.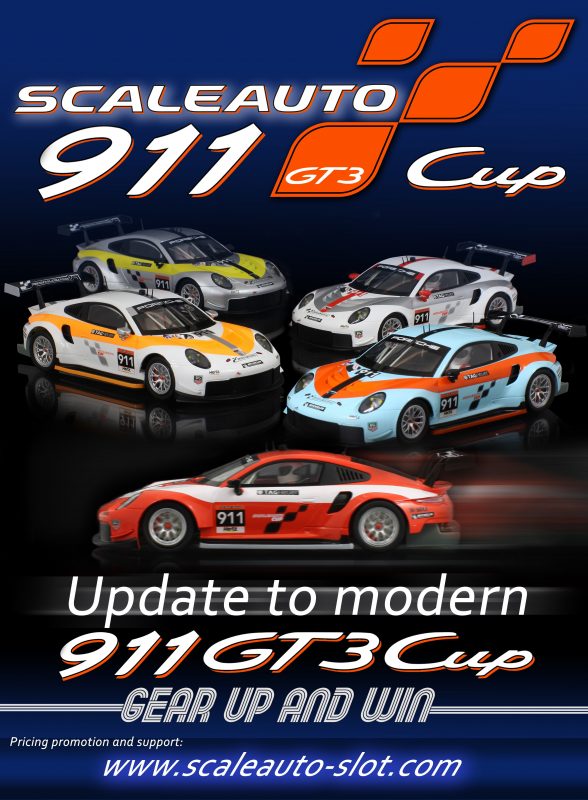 PORSCHE 911.2 GT3 CUP - INSCRIPCION/ SIGN UP
INSCRIPCIÓN CERRADA, GRACIAS POR VUESTRA COLABRACIÓN
SIGN UP CLOSED, THANKS FOR YOUR COLLABORATION